This is the thread where we can post updates, results, and anything so we don't have all of our inboxes flooded

For new people about this tournament, this double-elimination tournament will take place over several weeks. Each round may take place in different dates and different locations, all the way until the finals. The reason for this is that because everyone lives in different areas and have different availabilities, that it would be so hard to get everyone in one place in one day. So hopefully using this method, everyone can participate. If everything works out, then it there will be multiple tourneys, so if you miss one, don't worry, you'll probably get in in the next month, probably in a month or two at most.
---
RULES:
For all those participating, your seeding will be random. Contact your opponent and agree on a time and place to play your round. Pay me your entry fee (currently $5) before your round starts or YOUR ROUND WILL NOT COUNT. You pay for your own game.

Post here or email me the results/score, and if possible, the teams used (for everyone's interest)

The deadline for each round will likely be two weekends. Of course, if the brackets work out, people can do multiple rounds in the same night or ahead of other people. If a player fails to meet the deadline then they're eliminated and their entry fee is NOT refunded.

Repeat until the tourney finishes. And the pot will be distributed in set portions amoung the top 3 winners.
---
THE JANUARY 6 2007 TOURNAMENT BRACKET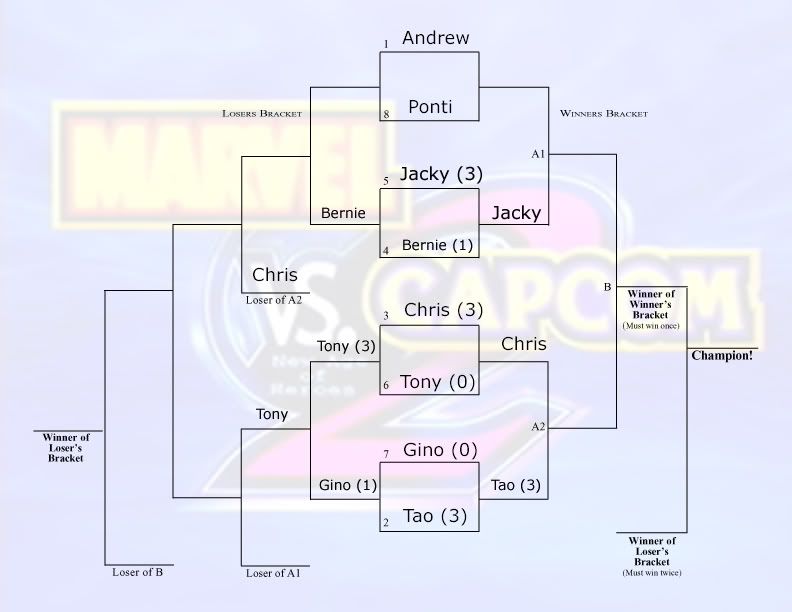 ---
Good luck to everyone participating!
For everyone else, feel free to post here or add me on MSN points to sig for feedback, or to express interest in the tourney. Thanks.
(last update: Jan 22, 8:00pm)