EDIT: $5.00 or 3 for $10.00
PS2:
NanoBreaker
Drakengard (canadian version with french language options)
Tenchu: Wrath of Heaven
Shadow of Colossus (GH) - Gone
Medal of Honor: European Assault (GH)
Sonic Heroes (ex-rental in bogus case with scratches) - 3.00
Phantom Brave
Soul Calibur 2 (with bonus disc)
Okage Shadow King - Gone
Front Mission 4
Silpheed: The Lost Planet
King of Fighters 11 - Gone
CDs: 3.00/OBO unless noted.
These vary in condition from like new to has scratches but plays without skipping. if you're concerened about condition please ask. Pics available on request too. All cds come complete with cases and covers.
Rap:
Marveless - Fearless
Doff Kapone (of Young D'Boyz) - Money Mack On a Million -$20
G-Rizm (Gangsta Dre) - Deployed The Brigade - 8.00
Zigg Zagg - Hell In Auguzt (1st Press)
Young Jeezy - Thug Motivation 101
VA - Major Work Soundtrack
Chuck-Nutt - Give It Up - 5.00
Brotha Lynch Hung - Lynch By Inch (2CD+DVD) 5.00 (1 disc has alot of scratches but still plays fine)
Brotha Lynch Hung & Sics - Nigga Deep (SBPF)
UDI - The Hangover
VA - Pandemonium
Mack 10 - Hustla's Handbook
VA - Controversy Sellz
Gold - In A Race Against Time
Gamblaz - Ghetto Platinum
Lo Down - Gangstaville
WC - Ghetto Heisman (EDITED)
Tech-N9ne - Absolute Power + DVD
Bullet - Small Town Living, Big Town Name - .25cents
Bullet - We Getz Perved - .25cents
Bullet - When It Rainz - .25cents
Todd G - Bail Money
2Pac - Pac's Life
Corporate Thugz - High Money Faculty
Million Dollar Dream - Money & Muscle
Mr.Peebodie (Doja Click) - Make It Happen - 20.00 (this is a steal, look at the amazon prices http://www.amazon.com/gp/offer-listing/B00000DGLU/ref=sr_1_olp_2?ie=UTF8&s=music&qid=1231458547&sr=8-2 )
X-Raided & Kingpin - City of Kings (SBPF)
M'Sane - Rip Til We Meet
Other:
Time In Malta - Alone with the Alone
VA - 12 Tales
Misery Signals - Of Malice & Magnum Heart
VA - Projeckt Gothic
Fax Arcana - Ritual in Routine
The Lost - Hidden Beneath…
In Pieces - Learning to Accept Silence
Undying - This Day All Gods Die
5 Minute Ride - The World…
VA - Hopelessly Devoted to You Vol.05
The Hurt Process - Drive By Monolouge
Day of Less/The Great Anti-Listen - Split
Mataburro - War In the Woods (Crazy ass CD)
Highwire Days - Hell From The Eyes Up
Far - Water & Solutions + DVD - 5.00
Jesus & The Devil - Let Them Have It
Boss Hog - I Dig You
Momento - Begenning
Grey AM/Ruined In A Day - Split
My Big Beautiful - The Way Things Are
AFI - Sing The Sorrow (Silver 1st Press) - 7.00
Glassjaw - Worship & Tribute
Rats Into Robots - A Column of Smoke…
VA - Amp Magazine Vol.01 Hardcore
And The Sky Went Red - Drowning Despair (#143/300) 30.00
Open Hand - The Dream
Story of The Year - Page Avenue
VA - Another Year On The Streets Vol.03 + DVD 4.00
VA - Ferret: Progression Through Aggresion
Marilyn Manson - Tourniquet - 2.00
Roses Are Red - Conversation
The Blue Hour - I've Filled Up These Pages - 8.00
Paint It By Numbers - Plastic
Shannon Wright - Over The Sun
Finch - Say Hello To Sunshine
Corn on Macabe - I+II (top of digipack is ripped from security strip)
Still Breathing - September
Interpol - Say Hello To The Angels/NYC
Clarity Process - some title I can't read
Everyday Victory - Oceans & Airplanes
In Dying Days - After The Fire
Linkin Park - Live In Texas + DVD - 8.00
Between The Buried & Me - The Silent Circus 5.00 (one of the most badass cds ever IMO)
Garnet Crow - Japense Title
Planesmistakenforstars - Fuck With Fire
Dreamcast Games 1$ + 2.00 S/H (all have some light marks from typical play and are complete with books & cases)
NFL2K
ChuChu Rocket
Sonic Shuffle
Shadowman - This one is 3$
PSOne (the small one) The system works wonderful. I'll include a free memory card but this doesn't come with a controller. 20$ + 10.00 shipping.
Final Fantasy X2 Limited Edition Guide (the big one with all the extra stuff) - 12.00 + probably like 8.00 shipping. (if there is a big difference in shipping I'll refund the difference but this thing is heavy)
I can take paypal or money order.
If you absolutely need me to, I can also list on ebay so you know your purchase will be secure but it's going to raise the price to cover the ebay fees.
Shipping is about 2.50 for most individual items. (If you're getting the 3 games for 10, shipping is 5.00 total)
all games are complete with case and manual and probably have light surface marks from typical use unless noted
SFII Tape:
It's about 10-15 minutes long.
The tips and hints are simply how to do some of the specials.
Has some talk introducing the game and talking about what is new for the super nintendo version.
There some japan commercials and other stuff, nothing too amazing though.
I watched the whole tape and it plays without any flaws. The case (as you can see in the pics) is a bit beat up but probably as good as you'll find anywhere.
I'm open to offers and trade if anyone is intrested.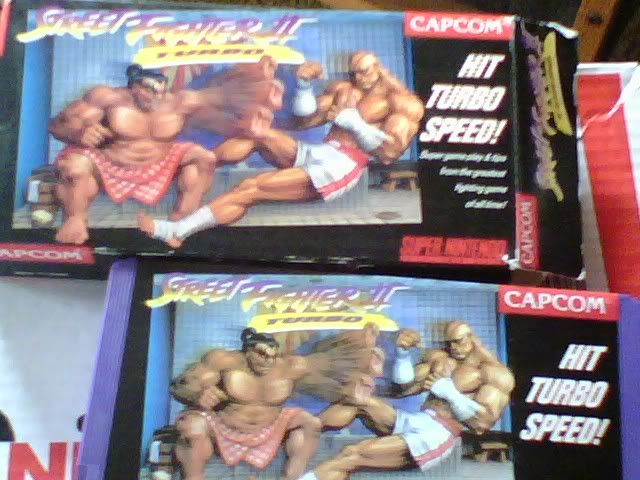 EDIT: Tape now on ebay http://cgi.ebay.com/ws/eBayISAPI.dll?ViewItem&item=320330451016