Offensive players look away now.
I love neutral jumps. There, I said it.
No matter what character or what game, neutral jumping is the business. Literally any move that attacks along the ground and moves your character forward is toast to the almighty neutral jump. Jump forward? Your ass is mine. It's the swiss army knife of fighting game moves. And safe… oh so safe. What's the worst that can happen? I land on a projectile? Boo hoo.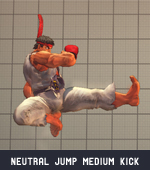 Look at it, isn't it beautiful?
Step your game up, stop all this dive kick nonsense, neutral jump is king. Any other fans?